September 28th, 2009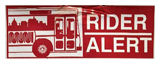 On September 29, the experiment to reduce auto traffic on Market Street by requiring right turns for passenger cars at Eighth and Sixth Streets begins. [PDF flyer from MTA] Will this improve inbound bus service on Market? We think it might, which is why we support the experiment – but we want to hear how it actually works in practice. Comment here on your ride today (before the experiment) and later in the week (after it begins)!
Update: The new layout looks "pretty good," per MTA Director Nat Ford.