October 31st, 2007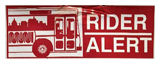 Despite or because of or notwithstanding SF's plans to cancel Halloween in the Castro, there will be some important service changes tonight:
BART's 16th and Mission Station will be closed from 8 pm. Note that BART Director Tom Radulovich, who represents the area, thinks this is a terrible idea and wasn't consulted. But the station will nonetheless be closed.
West Portal, Forest Hill, Castro, and Church stations will close at 8:30 pm. After this time the evening shuttle buses will run as they do later on most nights for the Metro Improvement Project. Lots more details are on the SFMTA website.
The N-Judah and J-Church will run normally. Castro residents who might like to take transit home after celebrating elsewhere should ride J to Market Street or N to Duboce Park and walk.