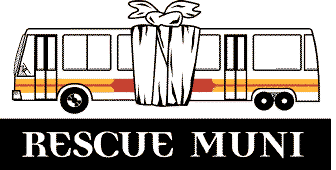 A Transit Ridersí Association for San Francisco
Box 190966, SF, CA 94119 ď 415/273-1558 ď www.rescuemuni.org
January 23, 2001
Chair and Members
San Francisco Board of Supervisors / County Transportation Authority
1 Carlton B. Goodlett Place
San Francisco, CA 94102
Dear Members:
Rescue Muni urges you to support Muni staff's decision to select the "diesel path" of compliance with the California Air Resources Board emission regulations, and to exercise its option with Neoplan to purchase 175 new diesel motorcoaches as soon as possible. We also strongly urge Muni and the SFCTA to take a strong stand for clean air by accelerating plans to convert motor coach lines to clean, quiet trolley coach service.
We make this recommendation because we are very concerned that a decision to adopt the alternative fuel path and compressed natural gas technology will have a severe negative impact on Muni's ability to provide reliable transit service. It will cause a delay of several years in the procurement of new CNG buses, forcing Muni to keep its old, unreliable, polluting buses on the road for that time.
In addition, after CNG buses are acquired, we are very concerned that they will not be able to meet Muni's tough operational demands, including full rush-hour loads on some of San Francisco's steepest hills. (Have fully-loaded CNG buses run on the Richmond expresses yet?) Vancouver's transit agency, for example, has just decided to abandon CNG due to the significantly higher operational costs and lower service reliability that has resulted from their adoption of this technology.
While we share the concern of many in the environmental community that diesel buses pose a health hazard, we are convinced that newer buses using ultra-low-sulfur diesel fuel and exhaust filters will achieve similar or better emissions improvements than CNG - in part because we will be able to retire the old buses years sooner. In New York, for example, new diesel engines plus filters plus ultra-low-sulfur fuel reduced particulate matter emissions by 94%.
In addition, conversion of motor coach lines to the cleanest vehicles of all, electric trolley coach operation (some candidates include 10-Townsend, 12-Folsom, 19-Polk, 28-19th Ave, 47-Van Ness, 48-Quintara/24 St, and 71-Haight/Noriega) will reduce emissions on those lines to zero while also reducing noise and improving service reliability. Trolley coaches use known, reliable technology that has been in use in San Francisco for over fifty years; we urge Muni and SFCTA to make this a top service planning priority.
But ultimately we recommend the clean diesel path because it will let Muni improve service reliability most rapidly - and in so doing help Muni increase ridership and reduce auto traffic. Choosing the diesel path allows Muni to replace all of its old, decrepit diesel buses by next year. The alternative fuel path, on the other hand, forbids Muni from buying these buses. We believe that this will lead to three more years of some of the most unreliable equipment in the transit industry - and then years more of higher costs and lower reliability.
Note that choosing the diesel path does not preclude the future adoption of CNG, LNG, diesel/battery hybrid, fuel cell, or other alternative-fueled vehicles in the future - nor does it prevent Muni from investing in trolley coaches. It simply allows Muni to complete its vehicle replacement plan while reducing its emissions to tough California standards.
Muni's riders have waited too long for service to get better. We urge you not to let riders down. By endorsing Muni's staff recommendation and approving the purchase of 175 new buses, you will make an important difference for service reliability and clean air.
Thank you very much,
Andrew Sullivan
Chair, Rescue Muni
cc: MTA Board of Directors; Muni Director Michael Burns