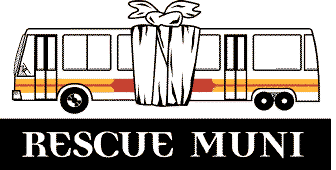 A Transit Ridersí Association for San Francisco
Box 190966, SF, CA 94119 ď 415/273-1558 ď www.rescuemuni.org
November 21, 2000

Board of Directors
Municipal Transportation Agency
401 Van Ness Avenue
San Francisco, CA 94102

cc: Michael Burns, Director, Municipal Railway

Dear Board Members:
Rescue Muni regrets that it must recommend a "No" vote on the proposed contract with the Transport Workers Union, Local 250-A. This is because, very simply, it does not including incentive programs for on-time performance or service delivery. This is a direct violation of City Charter section 8A.104 (m), emphasis ours:
Notwithstanding any limitations on compensation contained in Section A8.404, and in addition to the base pay established in collective bargaining agreements, all agreements negotiated by the Agency relating to compensation for Municipal Railway managers and employees in classifications designated by the Agency as "service-critical" shall provide incentive bonuses based on the achievement of the service standards in section 8A.103(C) and other standards and milestones adopted pursuant to Section 8A.103.

Upon review of the draft contract submitted to the MTA Board in October, we do not find that such incentive bonuses are included. Although other incentives (Attendance Cash-out, Expert Operator Premium, PSR Reduction, etc.) are included in the contract, there are no incentives explicitly based on achievement of the standards in 8A.103(C), namely on-time performance (2001 target: 65%) and service delivery (2001 target: 96.5%).

In our opinion, this violates the Charter and the express will of the voters in Proposition E. We do not need to reiterate that this is also in direct violation of the spirit of the talks that led to Proposition E, in which all parties to this contract were involved.

Therefore we must recommend its rejection. We do not make this recommendation lightly; this is because we take seriously the language in the Charter and Proposition E. We regret that, in all of the time that Muni and the union have had to correct this glaring omission, they have chosen not to.

Best regards,



Andrew Sullivan
Chair, Steering Committee