February 11th, 2010

The always useful Muni Diaries posted a detailed recap of the recent town hall meetings on the budget deficit. Well worth a read.
Note that the next public meeting is the MTA Board on February 16.
Update: The Appeal reports that the meeting has been postponed until February 26.
February 4th, 2010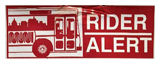 In the midst of all the budget troubles, you still need to find the next bus. Of course you can go to NextMuni.com or use Routesy on your iPhone, but if you have an iGoogle homepage, why not add this gadget? You can add up to three favorite stops by 511 stop ID.
Thanks to Dave Sohigian for this!