March 1st, 2010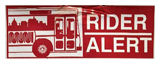 In the wake of the MTA's approval of a 10% service cut and Fast Pass increases over our protest (and that of many others) last Friday, at least two and possibly three protests appear to have been scheduled today – for the same time and place, 5 pm at Powell and Market. At a minimum there will be a gathering of the March Against Muni group, which is organizing a boycott of the system and/or a fare strike and demanding cuts in "excessive pay", and also the International ANSWER led rally discussed in Beyond Chron. There may also be a union-led event there as well.
Rescue Muni is not participating in or sponsoring any of these events, but we thought you should be informed, if only so you can take the subway through the area. (Why? We don't want to march against Muni – we want it to get the support, and more importantly the funding, it needs. And we don't endorse the divisive behavior and irrational demands of ANSWER, which is best known for anti-war protests and has little to no transit knowledge.)
Update: Here's what happened.