These are archived headlines from the RESCUE MUNI home page for 2005.
26 December 2005
2005 Muni Riders' Survey Results
Muni Riders' Survey results are now
available.
Muni's on time performance worsened for the first time since 1998, to
14.9%
of riders delayed.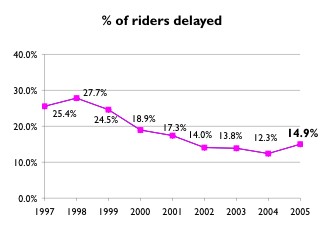 26 December 2005
Fall/Winter 2005 Transfer
Our December 2005
newsletter
(pdf) is online, with 2005 Muni Riders' Survey results as well as updates on Geary BRT and Rail planning.
18 November 2005
New MTA Director: Nat Ford?
The
Chronicle
and
Examiner
reported today that the MTA is considering
Nat Ford,
director of the
Metropolitan Atlanta Rapid Transit Authority
(MARTA), for director of transportation. (
Another article about Ford.
More details as we hear more.
9 November 2005
Voters Overwhelmingly Reject Anti-Reform Proposition D
Voters rejected Proposition D
on Tuesday by almost two to one. (Read about it in the
Chronicle
(
Examiner
,
Dept. of Elections
)
Thank you
for everyone who helped us fight this misguided initiative.
7 November 2005
Vote NO On Proposition D November 8
Rescue Muni urges you to reject Proposition D, a measure put on the ballot by the Board of Supervisors to grab power over Muni, this Election Day.
Rescue Muni strongly opposes it
and is joined by Mayor Gavin Newsom, the Democratic and Republican Parties,
SPUR
,
Plan C
, the
Alice B. Toklas Democratic Club
, the
City Democratic Club
, the
Chronicle
and
Examiner
, and many others in opposition. Muni reform is working - don't let the Supervisors undo it!
7 November 2005
Jose Cisneros for Treasurer
Rescue Muni urges you to support
Jose Cisneros for Treasurer
. Jose was an excellent director for Muni capital planning before being appointed to the Treasurer's office, and remains a strong advocate for Muni, focused on finding increased revenue for Muni as well as the rest of City government. Our members voted overwhelmingly to endorse him.
24 July 2005
Meet Key S.F. Transportation Planner July 26th
You're invited to meet one of the city's newest and most important transportation planners. Rescue Muni, along with our sustainable transportation allies SF Bike Coalition, Transportation for a Livable City, and Walk SF, are hosting a meet-and-greet reception for Bill Lieberman, the Municipal Transportation Agency's new Director of Planning. Mr. Lieberman oversees planning for all modes, including bicycling, walking, and transit. Join us Tuesday, July 26th between 5:30 pm and 7:30 pm at the SF Bike Coalition office, 995 Market St., Ste. 1550, at the corner of Sixth St. (Muni Metro to Powell or Civic Center, or take any of the many lines on Market.)
19 July 2005
Rescue Muni Vows to Fight Supes' Muni Power Grab:
"We Won't Turn Back the Clock"
Today, the Supervisors approved the proposed charter amendment to grab back power over the Municipal Transportation Agency, over Rescue Muni's vehement objections.
Rescue Muni will fight this measure!
Join us or renew now
to get involved.
Older headlines on this issue have been moved to the
2005 archive.
See also the
Save Muni Reform
page for background.
8 June 2005
Fourth Street Alignment Adopted for New Central Subway
Rescue Muni's hard work has paid off in the planning department. Yesterday the MTA Board
formally adopted the Fourth Street alignment
for the Central Subway,
as urged by Rescue Muni
in last fall's newsletter. Special thanks to Rescue Muni's
Service Expansion Committee
for their vision and advocacy on this issue!
7 June 2005
MTA Director Burns To Join Reverse Commuters To Silicon Valley
It seems that the jobs really are in the South Bay. MTA Executive Director Michael Burns has announced that he will
leave Muni
to become the General Manager of the the
Valley Transportation Authority
in Santa Clara. (Previous coverage:
Chronicle
,
Mercury News
(use
bugmenot
to read),
VTA Board Agenda
.) Rescue Muni thanks Mr. Burns for his service (we will host a goodbye reception before he leaves) and hopes to be involved in the search for a new Executive Director.
7 June 2005
Congestion Charging in SF - Update
Mayor Ken Livingstone came to SF
for World Environment Day and discussed the successful London congestion charging program with SF policymakers. Rescue Muni strongly supports this proposal.
1 June 2005
MTA Budget, Parking Fees and Fines Before Supervisors June 2
The Board of Supervisors Finance Committee considers the Municipal Transportation Agency budget and proposed parking fees and fines
Thursday
in committee. Rescue Muni does not recommend rejection of the budget, but we continue to strongly urge the Board to reverse its earlier vote and
pass the higher parking fees and fines
initially proposed by Muni. This would bring
$4.4 million
in additional revenue to the Municipal Railway and prevent
deferred maintenance
that causes service delays and safety hazards.
Update: The committee did not follow our suggestion, preferring cheaper driving over better Muni maintenance. Thanks again to the Supervisors who supported higher fees and fines.
25 May 2005
Supervisors Put Parking Violators Ahead Of Muni Riders -
Rescue Muni Thanks Supervisor Mirkarimi For His Leadership
At the Tuesday, May 24th meeting of the Board of Supervisors, Supervisor Ross Mirkarimi moved to approve the full parking fine and meter rate increases in the original MTA budget, as supported by Rescue Muni.
His motions were defeated,
but Rescue Muni applauds his efforts to prioritize Muni riders over parking scofflaws. (The board voted to approve the committee's giveback of over $4 million to auto drivers in the form of lower fees and fines.)
Rescue Muni appreciates the support of Supervisors Tom Ammiano and Chris Daly, who voted for both of Mirkarimi's motions. We're also grateful to Supervisor Sophie Maxwell, who supported his effort to restore the full parking meter rate increase, and Board of Supervisors President Aaron Peskin, who supported an effort to raise parking fines above the level proposed by the Budget Committee, but below the level proposed by the MTA Board.
Note that Rescue Muni was not involved in the disruptive protest during the hearing. Although we agree with those speakers who supported the higher parking fines, that's not how we advocate for our cause.
23 May 2005
Call Your Supervisor - Pass Parking Fees & Fines and Avoid Service Cuts!
On Tuesday, May 24, the Board of Supervisors considers proposed increases to parking fees and fines. (See
agenda
- parking
fees
and
fines
are detailed in pdf files.)
Rescue Muni opposes this specific proposal
(see press release) because it is significantly reduced from the fees and fines in the 2006 budget passed by the MTA board. We urge the Supervisors to reject the committee's proposal and pass the proposed parking fee and fine increases
as proposed initially
by the MTA. We don't think it makes sense to give back surplus funds to auto drivers when Muni service and maintenance are still being cut.
Action Needed! Contact your Supervisor and urge the board to pass the fees and fines as initially proposed by the MTA. Your call will prevent service cuts!
23 May 2005
Spring 2005 Newsletter Available
17 May 2005
Our Presentation on Rail-Ready Geary BRT
9 May 2005
2005 Muni Riders' Survey - Submit Your Data!
9 May 2005
Geary CAC Needs You
17 July 2005
Save Muni Reform - Anti-Muni Amendments At Board Tuesday
7 July 2005
Save Muni Reform - Anti-Muni Amendments At Rules Committee Today
23 June 2005
Save Muni Reform - Rules Committee Continued To Friday
21 June 2005
Save Muni Reform - Your Help Needed Now!
17 May 2005
2006 Budget Update
10 May 2005
General Meeting Thursday, May 12
10 May 2005
Recommendations on the 2005-06 MTA Budget
9 May 2005
Credit Cards Now Accepted for Memberships and Renewals
21 April 2005
Rescue Muni's recommendations on Geary Bus Rapid Transit
18 April 2005
Muni Proposing Service Cuts At Tuesday's MTA Board Hearing
6 April 2005
Rescue Muni Supports Restoring Vehicle Fee To Fund Transit, City Services
10 March 2005
Rescuing Muni's Finances
30 March 2005
Geary Corridor Workshops
28 February 2005
SPUR's Letter to Muni on the Budget
16 February 2005
General Meeting Today
16 February 2005
Matt Smith: Higher Parking Fees Needed
15 February 2005
How to set up NextBus on your cell phone
15 February 2005
Congestion Charging in San Francisco?
15 February 2005
MTA Hearing Today - Support Higher Parking Fees and Fines to fund Muni
2 February 2005
New Web Design
2 February 2005
Rescue Muni's Letter and Comments on the Budget
28 January 2005
Muni Proposes Budget with Fare Increase, Service Cuts, Parking Fee Increases
28 January 2005
January Newsletter Available